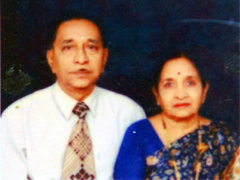 LM-0242
Sri Kosuru Chandra Sekhara Rao
[1952, Civil]
Director General (Retd.),
IDSE-MES
Further Academic Qualifications:
ME (Civil), Jabalpur University.
Post Graduate in Housing, Planning & Building from Bouwcentrum, Netherlands.
Awards & Achievements:
Planned, designed & executed theLargest Air Force Basefor Armed Forces in Nigeria.
Presently:
Consultant, Construction Management.
Advisor, IIT Indore Campus Development.
Trainer, Construction Management at Post Graduate Level.
Earlier:
Director, NICMAR's Construction Industry Staff College for a Decade.
Conducted Post Graduate Courses in Advanced Construction Management.
Established Specialist Post Graduate Diploma in Quantity Surveying.
Director General, IDSE-MES.
Planned, Designed & Executed Prestigious Defence Projects for Army, Navy, Air Force & Ordinance Factories in India.
Executed Prestigious Defence Projects in Collaboration with Japanese, Russians, British and Polish Consultants.
Family:
One daughter & Son settled in USA.
One daughter, a Consultant in HRD.
One Son is a Wing Commander in IAF.
Miya-Bibi happily settled in Secunderabad.