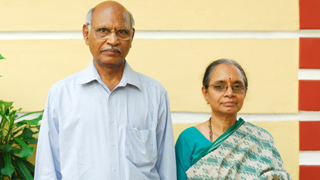 PM-0063
Sri VSN Murthy
[1970, ECE]
Technical Advisor,
Indiasign Pvt. Ltd.
Further Academic Qualifications:
Awards & Achievements
(Professional & Engineering):
Distinguished Service Award from Indian Space Research Organisation.
Established ground station facilities for Telemetry, telecommand for launching station and also an integrated facility for Mission Control and satellite Checkout.
Presently:
Currently associated with Indiasign (broadcast service provider) as Technical Advisor. Located in Hyderabad.
Technical Adviser in the Satellite Communications in the design and establishment of earth station facilities and mobile communication vehicles for news gathering and up linking.
Also designed sensors for critical applications in Defense sector.
Earlier:
22 years in ISRO and responsible for configuration, installation & commissioning of ground facilities required for launch station (Telemetry, Telecommand, Mission Control and Launch Control, Transportable TTC terminal for APPLE satellite launch and many more).
Later in the corporate sector as Vice President – Operations, configured and installed Dhruv VSAT network along LOC for the Indian Army.
Specialised in Satellite Communications and worked for the projects of WPC (monitoring earth station), BSNL (VSAT telephone network).
Contribution to the Society:
Participation in cultural and social activities.
Family:
One daughter and one son.
Daughter did BA (Commercial Art) and MA (Illustration) in MS University in Vadodara and currently Head of Art Faculty in Delhi Public School in Ahemdabad.
Son did BE (Biomedical) in Osmania University and stood first. Later did  doctoral programme in University of Washington, Seattle, Post doctoral research in Wisconsin Medical College, currently Assistant Professor in Micheagun University (Ann Arbor).
Wife: Graduate in Commerce and home maker.
In specific as Alumnus:
Proposed a course work in Environmental Design & Testing for introducing in JNTU Kakinada for their study for induction and implementation. Willing to assist in the area if felt needed.